Module 0 (1 week): Course Introduction  
Flying Cows is proud to launch the Online Community CertTESOL, the first training course of its kind in the UK where students teach English as a second language to refugees, asylum seekers, charities and community groups across the UK, as part of their English teacher training.
Apply Now
Community Learning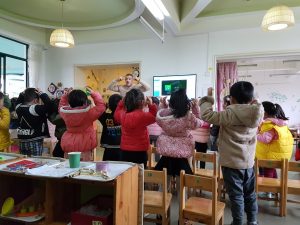 The Flying Cows Online Community CertTESOL course in association with Trinity College, London and Language Point Teacher Education, has been designed in response to the Covid-19 pandemic for people who want to teach English to non-native English speakers at home or overseas.   The course is 100% online so learners can stay safe while they study.  
The Trinity CertTESOL is a world-leading entry qualification in English Language Teaching, which can open doors for new teachers at home and in almost every country in the world. The course is 12 weeks long and includes 6 hours of practical application, teaching students (online) from a wide variety of backgrounds making a real difference to people's lives.  The Trinity CertTESOL is a level 5, Ofqual regulated qualification which is accepted by education
authorities, immigration departments and visa offices worldwide as a benchmark
qualification in the industry. 
"We have a huge need for English classes here at the Nottingham and Nottinghamshire Refugee Forum (NNRF).  Being able to speak some English means that refugees and asylum seekers can settle in quicker in the UK, feel welcome and receive fair and compassionate treatment and support to rebuild their lives.  The Flying Cows Community CertTESOL courses will mean we have a regular source of English teachers and will make a real difference to us."
Teressa O'Hagan, ESOL Project Co-ordinator, Nottingham and Nottinghamshire Refugee Forum (NNRF). 
Online Learning
This new online mode of study enables you to complete the theoretical components of the course in your own time, through video content, weekly collaborative tasks and live tutorials with course trainers. Course assignments are submitted online, Teaching Practice lessons are observed via video, streamed or recorded and final assessment is made through a live interview with a Trinity College moderator via video.
Requirements
The Community CertTESOL course is open to applicants who are 18+ and have enough qualifications to allow them to enter higher education in their own countries. Students must be competent in spoken and written English.  Candidates will be screened in a 45-minute phone or skype interview with a course trainer. 
Structure
The Community CertTESOL consists of Pre-course Tasks and six modules .
Pre-course Tasks: A Language and Methodology Awareness pack, containing
preparatory tasks and input to be completed before week 1 of the
course. 
Module 0 (1 week): Course Introduction
Module 1 (2 weeks): Language Awareness
Assessment: Language Awareness coursework assignment
Module 2 (2 weeks): TESOL Approaches and methods
Assessment: TESOL methodology quiz
Module 3 (1 week): Guided Observation
Assessment: Guided Observation Journal (2500 words approx.)
Module 4 (2 weeks): Learners and learning
Assessment: 1) the Learner Profile (5000 words approx.)
2) Unknown Language Journal (2500 words)
Module 5 (2 weeks): Teaching Practice A: 3-4 hours of live classroom teaching,
observed via video
Assessment: Teaching Practice Portfolio entries 1-3
Module 6 (2 weeks): Teaching Practice B: 3-4 hours of live classroom teaching,
observed via video
Assessment: 1) The Materials Assignment (500 words approx.)
2) Teaching Practice Portfolio entries 4-6
Final exam: Language Awareness / methodology exam
Moderation: Online group interview (30 mins)
Online Materials Assignment interviews (15 minutes per trainee) 
2020 Course Dates
Online Study
Face-to-Face Study (Nottingham)

Moderation

Date

6th January – 24th January
27th January – 7th February
8th February
2nd March – 20th March
23rd March – 3rd April
5th April
1st June – 19th June
22nd June – 3rd July
5th July
7th September – 26th September
28th September – 9th October
11th October
2nd November – 20th November
23rd November – 4th December
6th December
Costs
 This course is open to applicants from anywhere in the world at an introductory price of £850.00 for 2020 courses.   
Add your details to register your interest or to apply for the Online Community CertTESOL